1986-1993
Edit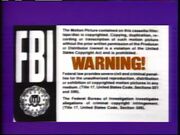 This is the Fries Home Video warning screen for videotapes, especially the "Title 17" detail on purple background. This warning screen has also been used for New Line Home Entertainment (now owned and distributed by Warner Home Video), Embassy Home Entertainment, Nelson Entertainment, Video Treasures (now Anchor Bay Entertainment), Strand Home Video, Unicorn Video (with a Copyright detail below the Warning screen detail), Monterey Home Video and MPI Home Video.
As seen on VHS, such as The Care Bears Rainy Day Activites (1990).
Ad blocker interference detected!
Wikia is a free-to-use site that makes money from advertising. We have a modified experience for viewers using ad blockers

Wikia is not accessible if you've made further modifications. Remove the custom ad blocker rule(s) and the page will load as expected.